A song in the heart
puts a smile on the face.
from Our Daily Bread Book
I took this photo in one of the shops where I always go shopping for groceries.

Click the logo to visit the blog. Feel free to join this wonderful meme especially if you love yellow. Thanks to the Author Drowsey Monkey for hosting this beautiful meme. Happy Mellow Yellow Monday!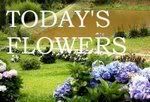 Click the logo, feel free to join and see the beauty of flowers from all over the world. Special appreciation to Luiz and the TF team for this very wonderful meme. Happy TF day!