I always love flowers and I will always will! These are one sort of nature that always fascinates me. I am excited again for the coming of spring time. I can't wait to see the tulips, hydrangea, Narcissus, roses, lavender, Dahlia, hibiscus and many more to bloom again in our garden.
I wish everyone a good start of the month of March. have a great week ahead to everyone! take care guys and these are the beautiful flowers I am sharing today.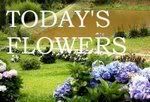 Click the logo to join and see participants of these wonderful memes! Thanks to respective Authors for hosting these beautiful memes! Have a great week to all!