"O Prince of Peace, keep us, we pray,
From strife and enmity;
Help us to speak with loving words
That calm hostility."- Branon

A very beautiful kind of orchid. I took this picture last week as we visited a garden shop nearby.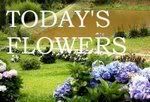 Click the logos above, feel free to join these wonderful memes. Special appreciation to Luiz and Drowsey Monkey for hosting these memes. Have a great day to all!