We are done with walking. I had some fun and quality time with my dear HB. It was very cold outside because the cold wind make it colder..wow so much cold in here! I guess it is time to share this beautiful Azalea or Rhododendron flowers. We have some of these kind in our garden but this image was taken during our visit to a garden center last year. I could probably share ours when the spring comes and it flowers again.
Thanks God for this beautiful Sunday! have a wonderful week ahead!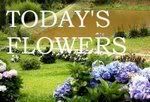 Click the logos, feel free to join and see more images from all over the world. Special appreciation to the Authors of

Today's Flower

and

Wordless Wednesday

for these very wonderful memes. Happy weekend!